12th German Blues Challenge & German Blues Awards 2022
Expected PROGRAM
Friday, 09 September from 18:00
Challenge Festival
18.00 Uhr Konzert Gerry Jablonski & The Electric Band (GB)
21.00 Uhr Konzert Peter Karp Band (USA)
23.00 End of program
---
Saturday, September 10 from 5:00 pm

German Blues Challenge (4 acts in competition) & German Blues Awards 2022
17.00: Welcome 1. guest concert Moritz Kruit + Band (D) -Rockin' Blues'n'Soul-
17.45 h: Introduction to the processes
18.00: Michael van Merwyk & Gerd Gorke (competition band)
To maintain neutrality, here's only a link to the artist's homepage.
https://www.bluesoul.de/gerd-gorke-mvm.html
18.30: German Blues Awards categories: Instrument Other & Festival
18.45 Greyhound George Band (competition band)
To maintain neutrality, here's only a link to the artist's homepage.
https://www.greyhound-george.de/band/
7.15 p.m.: German Blues Awards categories: Band & Vocals – Male
19.30 Break
7.45 p.m.: German Blues Awards categories: Harp & Solo Duo
20.00 Bad Temper Joe And His Band (competition band)
To maintain neutrality, here's only a link to the artist's homepage.
https://www.badtemperjoe.com/
20.30: German Blues Awards categories: Recording & Club
20.45 Uhr: Jochen Volpert Band (Wettbewerbsband)
Zur Wahrung der Neutralität gibt´s hier nur einen Link zur Homepage des Künstlers.
21.15 Uhr: Verleihungen German-Blues-Awards Kategorie: Gitarre & Gesang – weiblich
21.45 Uhr: 2. Gastkonzert Moritz Kruit + Band (D) -Rockin´ Blues´n´Soul-
22.15 Uhr: Bekanntgabe Gewinner German Blues Challenge 2018
22.30 Uhr: Ausklang evtl. Session
23.00 Uhr Veranstaltungsende
---
September 11 from 14:00:
Blues – Matinee

14.00 Uhr German Blues Challenge Preisträgerkonzert

We look forward to the first concert of the freshly minted award winners in 2022. Whoever it may be- it will surely be great!!!
16.00 Uhr Konzert Baltic Blues Band (USA/D)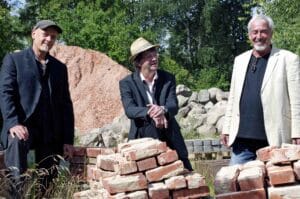 Two regional musicians and a "Yank" have joined forces to celebrate their own blues rock in the style of the 70s. A real listener!
Originals styled
It sounds like Bluesrock straight from the 70ies.
Line Up: Peter Kaben (git, voc), Bernd Blumentritt (b), Christian Werr (dr)
18.00 End